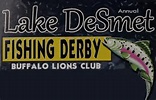 For 33 years, anglers have gathered at Lake DeSmet over Memorial Day weekend to compete in the Buffalo Lions Club Fishing Derby.
Fishermen who plan to participate in this year's contest will be have the opportunity to catch a tagged fish for cash or a chance to win the grand prize.
Tagged fish will have values of up to $3,000 and the grand prize will be a choice of a Kymco 700 ATV or $5,000 in cash.
A Wyoming Fishing License and Conservation Stamp are required to fish at the derby and all Wyoming State Game and Fish Regulations apply and Buffalo Game Warden Jim Seeman spoke of the fishing derby weekend…
Tickets are available at a number of locations in Buffalo, Sheridan, and Gillette.
---